Altivar Variable Speed Drives and Soft Starters
Smart, connected drives from 0.75 kW to 20 MW in low and medium voltage, with embedded services to help you optimise your business through process optimisation, energy management improvements and asset management.
Altivar variable speed drives and soft starters deliver top performance in motor control applications across machines, processes and buildings. With built-in intelligence, these smart connected devices gather and share data to improve operational efficiency, safety and reliability
Variable speed drive for fluid management with embedded Services dedicated to process Industry and Utilities for 3 phases synchronous, asynchronous and special motors from 0.75 kW to 800 kW
Applications
Water and wastewater applications
Centrifugal and volumetric pumps
Building applications
Food and beverage applications
Compressors
Fans
Energy efficiency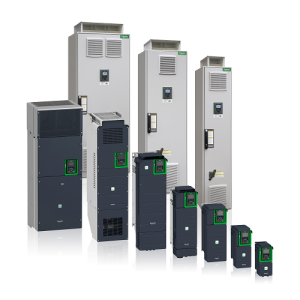 Variable speed drive and drives system for demanding applications from 0.75kW to 800kW dedicated to maximum productivity with excellent motor control and connectivity capabilities
Applications
Hoisting
Artificial lift
Extruders, crushers
Conveyors, mills
DC Bus sharing/ 4 Quadrant applications
Altivar Machine provides the most advanced automation solutions while optimising design and reducing engineering costs for original equipment manufacturers (OEMs).
Altivar Machine ATV320, a variable speed drive designed for Original Equipment Manufacturers (OEMs) that meets simple and advanced application requirements for 3 Phase synchronous and asynchronous motors from 0.18 to 15 kW (0.25 to 20 Hp).
Altivar Machine ATV340, a IoT-ready variable speed drives for safety and heavy duty applications that is designed for Original Equipment Manufacturers (OEMs) that engineer high performance applications for 3 phase motors with or without sensor from 0.75 to 75 kW (1 to 100Hp).
Connected drives Efficient, compact and connected product for buildings that's easy to integrate with your BMS (building management system) applications like HVAC and pumping
HVAC Variable Speed Drives for 0.75 to 75kW motors Built for performance, intelligence and building protection
Reliable, compact, robust soft starter. Open and easy to integrate into your installation, Altivar Soft Starters is a wide and consistent line of soft starters from 0.37 to 900 kW that make your machines last longer.
Soft Starters for heavy duty industry & pump from 4 to 900kW. High performance soft start/ soft stop for your heavy duty machines and pumps with the unique Torque Control System (TCS) for controlled starting and deceleration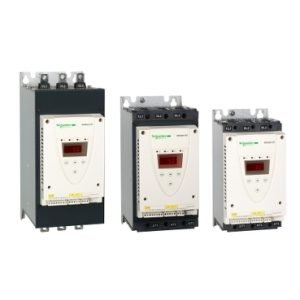 All-in-one Soft Starters for electrical motors from 4 to 400kW. Designed for infrastructure and industrial applications, 3-phase asynchronous motors
The Altistart 01 soft start/ soft stop units combine simplicity and efficiency providing you an outstanding solution for simple machines from 0.37 to 15kW
Need Help With Industrial Solutions?

Wan-Pro is the Specialized Distributor for Schneider Electric Industrial Automation Products (Singapore)